JP ASTROCRAFT, LLC.
Telescope Sales and Custom Design Pricing
Telescopes for Sale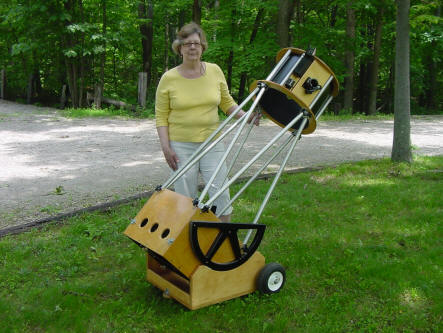 Sweet Sixteen, sixteen inch f/4.0 custom Newtonian
Including Feathertouch focuser, JP astrocraft mirror cell with cooling fan, batteries and charger, light shroud, telrad finder, knurled brass collimation knobs, three vane spider, and matching primary transport/storage case. Dick Wessling primary mirror. Telescope in pecan finish.
Price $7500.00, shipping not included.
---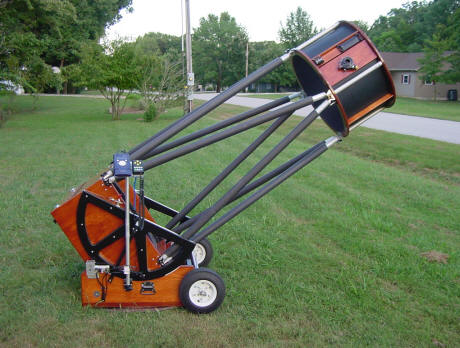 Twenty Five inch f/4.0 custom Newtonian
The telescope shown above is available for sale.
Features include: Lockwood 1.7" thick primary, 4.5" secondary with enhanced coatings on both mirrors, feathertouch focuser, ServoCat and Argo Navis with Catstalk, integral wheel transport system plus a set of wheelbarrow handles with wheels, JP astrocraft 18 point cell tilt out cell with spherical bearing triangle flotation and 45 degree wiffletree edge support, primary cooling fans, heavy duty positive locating truss system, astrosystems light shroud, Telrad finder, mirror transport box.
Price as shown is $21,995.00 shipping not included.
Another 25 inch f/4.0 is under construction, and a third that is f/4.8 with a 2" thick mirror.
BASE PRICE is $18,495.00 for the f/4.0 and $17,495
for the f/4.8. This includes the Feathertouch focuser, integral wheel system, Telrad, and shroud.
.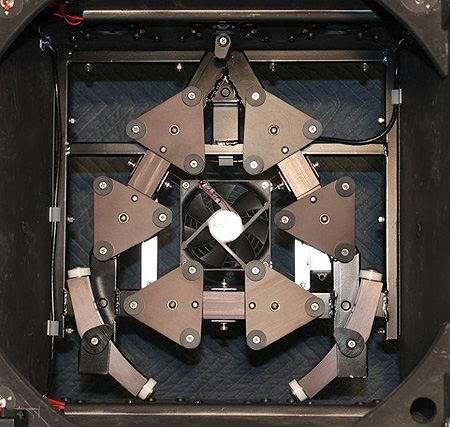 A sixteen inch x eighteen point cell
Shown above is for the Sweet Sixteen telescope mirror cell, priced at $640.00, not including the fan or custom brass collimation knobs. Shipping not included.
Pricing on other sizes of JP Astrocraft mirror cells will be quoted on a custom basis.
---
Home Page The Twenty-Five Sweet 16's Used Telescopes Custom Mirror Cells Custom Projects Contact