The JP Astrocraft Mirror cell has been uniquely designed to provide optimum support and consistent alignment of your precision optic.
A sling is widely used to provide a simple and effective edge support for alt-az telescopes. It suffers two problems:
1. If a sling becomes misaligned it will pull on and bend the optic. The initial sling alignment is critical and will change as the mirror is collimated with the typical sling cell. You are moving and tilting the mirror to collimate while the sling is fixed to the frame. Misalignment can also occur if the sling shifts during transportation or use.
2. The sling does not provide precise lateral centering of the mirror. Sling stretch, sling anchor bolt flex, and tilt from using a equatorial platform cause the mirror to shift laterally causing loss of the required optical alignment, particularly for fast optical systems.
The best solution is to use a solid edge support system mounted to a second support framework. It's more complicated and expensive, but felt to be necessary for the faster mirrors and discriminating users.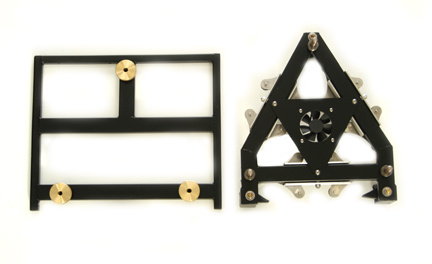 The cell apart.
The mirror is mounted to the "A" shaped frame which includes the flotation system and edge support. The mirror edge is positively located by the two contoured mounting shoes which pivot to prevent pinching the edge. The rectangular frame fastens to the mirror box and is separated from the "A" frame by Belleville springs. Compressing these springs allows collimation adjustments without affecting the mirror to support relationship.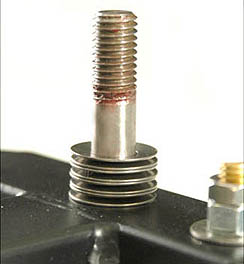 These are the stainless Belleville springs, a lot of spring in a small package.
This is the mirror side of the "A" frame assembly.
The 18 point support system parameters are computer generated for optimization.
Close up view of the edge support pivoting shoes.
These shoes pivot on a bolt screwed into the "A" frame, but also supported at the top by a steel angle and top plate to prevent the bolt from bending from the mirror weight. This was found to be a cause of collimation shifts in our tests.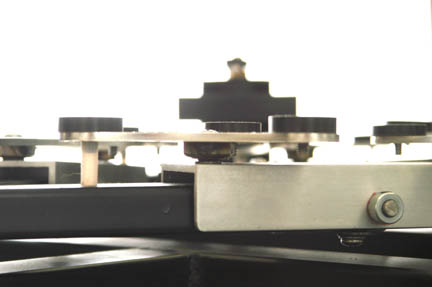 The shaft mounted aluminum channel and spherical bearing joint at the bottom of the triangle are visible here.
This combination of pivots was found to show significantly less collimation shift as the scope is slewed about. Also note the nylon triangle alignment pin extending downward from the triangle.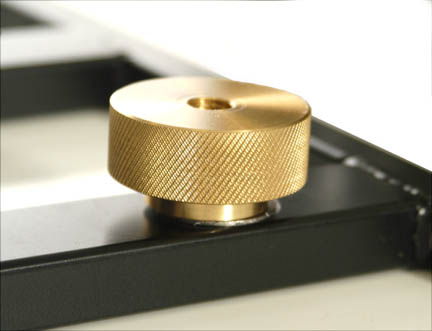 And an optional brass collimation knob.
It looks pretty and adds a little balance for those big Naglers.
Other Mirror Cells
Twenty five inch cell featuring spherical bearings at pivot points.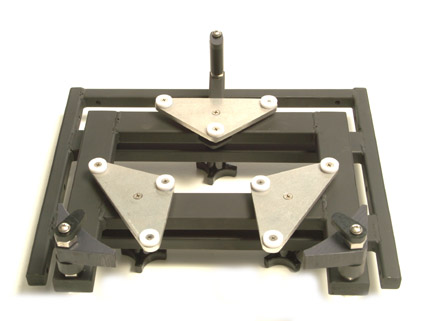 A 9 point cell for a 13.25 inch mirror.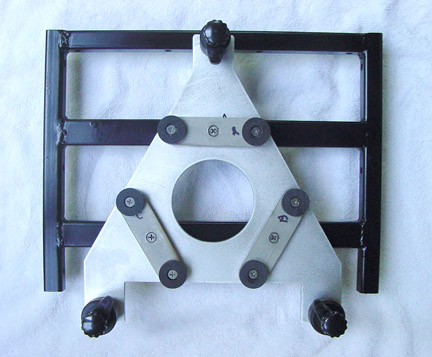 Six point cell for a 10.25" mirror
---
Home Page The Twenty-Five Sweet 16's Used Telescopes Custom Projects Pricing Contact